This is one of the most annoying weeks of the season to write about streamers. It's always tough to gauge whether we should use stats from last season or build off the two weeks of stats we've developed this year. Understanding who these pitchers are is what really matters because that's the ultimatum for picking the suitable streamers on both ends of the diamond. With that in mind, let's kick things off with some pitching options for this week!
Pitching Streamers
Matt Brash (SEA) vs. KC
The Mariners are spwing prospects like Linda Blair in The Exorcist, and this is yet another one of their stud arms. This 24-year-old right-hander cruised through the minors, generating a 2.26 ERA, 1.12 WHIP, and 13.3 K/9 rate in 103 innings over the last two seasons. Those are scary numbers, especially since he allowed five baserunners across 5.1 innings in his debut against an elite White Sox lineup earlier in the week. That should be easy to duplicate against the Royals, with KC ranked 25th in OBP, wOBA, and OPS last season. The Streamonator loves this play, too, projecting Brash for a quality start en route to providing $4.5 worth of value.
MacKenzie Gore (SD) vs. MacKenzie Gore (SD) vs. CI
Let's keep the prospects rolling with Mr. Gore. This southpaw has been one of the highest touted prospects in baseball for years now, and he's earned a starting role because of Blake Snell's injury. If his minor league numbers are any indication, Gore should be a monster at this level. The left-hander has a 2.79 ERA and 1.09 WHIP in his minor league career, striking out 311 batters across 238 innings. That's an unbelievable rate, and we certainly don't mind that Cincinnati ranks 26th in OPS and dead-last in xwOBA through the opening two weeks of this season. Pitching in Petco Park isn't too bad, either!
Eric Lauer (MIL) vs. PIT
Guys like Brandon Woodruff, Freddy Peralta, and Corbin Burnes get all the credit atop this rotation, but Lauer is no slouch. This guy doesn't have the stuff to match those studs, but a 3.19 ERA, 1.14 WHIP, and 25 percent K rate in 2021 is nothing to scoff at. Those impressive averages earned him a spot in this rotation, and it should make him one of the best streamers of the week against a putrid Pittsburgh lineup. The Pirates ranked 27th in xwOBA, 28th in OPS, and dead-last in runs scored last season. They certainly haven't gotten any better, and we love that since Lauer pitched to a 1.48 ERA and 0.98 WHIP in four starts against them last year!
Michael Pineda (DET) vs. COLE
Pine Tar Pineda has been in this article a million times over the last five years. He is always under-owned, and it's difficult to understand why. We're talking about a guy who has a 3.98 ERA, 1.19 WHIP, and 24 percent K rate for his career. Those aren't brilliant averages, but it's miraculously consistent from a player that's available year after year. The reason we really love him this week is the matchup with Colorado. The Rockies ranked dead-last in runs scored and OPS on the road last season, and they're traditionally terrible whenever they leave the friendly confines of Coors Field. We also don't mind that Pineda is pitching in Comerica Park, one of the most spacious ballparks in baseball.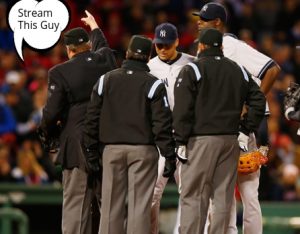 Kyle Wright (ATL) vs. Kyle Wright MIA
Wright is steadily climbing up the ownership percentages across everyone's leagues, and this might be your final chance to go pick him up. This youngster has dazzled in his first two starts, generating a 1.64 ERA, 0.73 WHIP, and 12.3 K/9 rate. Those absurd averages make him tough to avoid, especially since he has one of the best matchups in baseball here. Miami ranked 29th in runs scored, OBP, and OPS last season while owning the worst xwOBA in baseball! He'll also likely enter this matchup as a -200 favorite or higher, making him a great bet for a win as well.
Streamers to Consider
This isn't a two-start streamers article, but Alex Cobb is tough to fade against the New York Mets and Washington Nationals. He's got his fastball flirting with 100 MPH and has "The Thing" working to perfection so far this season. If he's available, go pick him up!
Jesus Luzardo has been one of the most talented pitchers in the minors for years now, and 12 Ks in his debut makes him one of the most intriguing pickups out there.
Jordan Hicks has shown elite stuff in the Cards bullpen throughout his career, and he's worth keeping an eye on entering their rotation. He also gets a matchup with the horrific Marlins lineup.
Hitting Streamers
Connor Joe (COL) vs. PHI, at DET
Joe is our one carryover from last week, and it looks like this could be a must-add for the rest of the season. The leadoff hitter for the Rockies usually is, and this guy has proven to be a stud atop this lineup. He provided a .379 OBP and .848 OPS through 63 last season games and has kicked off this year with a .424 OBP and .995 OPS. That's going to keep him atop this lineup for the time being, and that's big news with three home games and five matchups against crappy pitching. He'll face guys like Zach Eflin, Kyle Gibson, Matt Manning, Pineda, and some fill-in for Casey Mize.
Anthony Santander (BAL) at OAK, at LAA
It's easy for a hitter to get forgotten about in Baltimore, but this dude is one of the best streamers out there. Santander has a .536 OBP and 1.062 OPS through the first two weeks of this season and showed glimpses of that in 2020 when he had a .575 SLG. We love that sort of potential when he's rolling like this, especially since he has some of the best matchups possible. Santander will square off with Cole Irvin, Daulton Jefferies, Paul Blackburn, Reid Detmers, and Jose Suarez this week.
Stephen Piscotty (OAK) vs. BAL, vs. TEX
The A's have already thrown in the towel in what's going to be a long season, but Piscotty doesn't know. Stephen doesn't care either, acting as the best hitter in this lackluster lineup. What makes him such an attractive option this week are the matchups with all the lefties. Piscotty has a date with Taylor Hearn, Martin Perez, John Means, Jordan Lyles, Tyler Wells, and two TBDs. Those are easily the best seven matchups of any player this week, and we certainly don't mind that Piscotty has a .360 OBP, .468 SLG, and .355 wOBA against southpaws throughout his career.
Update: Piscotty entered COVID protocols but we also like righty bats like Chad Pinder, Sheldon Neuse, and Sean Murphy with all the same matchups.
Owen Miller (CLE) vs. CWS, at NYY
Using hot hands as streamers can be dangerous at times, but it's tough to fade a guy rolling like this. Miller has six doubles, two homers, and eight runs scored over the last five games en route to a .522 AVG and 1.543 OPS. We obviously don't anticipate those Little League averages to maintain, but it makes him tough to avoid until he cools off. He actually gets the manageable portions of these rotations, too, facing the likes of Dallas Keuchel, Jimmy Lambert, Nestor Cortes, and Jameson Taillon this week.
Feel free to comment to me here or reach me on Twitter @Baltilottajoel if you have any questions!