A familiar name remains atop the Razzball Commenter Leagues Master Standings this week (oh hai). My team is off to a hot start in DFSers Anonymous, but the season is long and things will regulate. We're still at that point in the season when huge fluctuations can happen, just ask JKJ (more on that in a bit). My squad is also pumping out the IP (211 right now) in the early going, something I'll have to look at pacing here soon. Speaking of pacing, let's have a little chat about pacing ourselves through this grueling baseball season. No, this is not a PSA reminding you to mix a glass of water into your whiskey drinking (but do that too). This is about pacing your innings pitched. Some simple math tells us there are 24-ish weeks in this oddly scheduled season and we need to get to 1400 IP. That means you should be looking at about 58 innings pitched per week in order to stay on track. In other words, you should be sitting at between 190 and 210 IP as of this writing. Maybe I'm not as far ahead as I thought and everyone else is just a little behind. FanTrax does offer you a glimpse of your current pace if you click the Min/Max button on your team screen. I'm not sure I trust their math though. I followed their pacing in the past and with about a month and a half to go had to stream my ass off in just about every league to catch up. I'm not sure where the breakdown was, but I prefer my own tracking. With any luck, you're reading this early enough this season that you won't fall into the same trap. Now, let's jump into our weekly data including the return of the Team of the Week now that we have the RCL bots churning data out.
'PERTY' PERTS
Each week we'll peek in at our resident 'perts to see who is laying claim to best "expert" RCLer in the land. We'll take notes, check the standings and generally stalk them. The heading is also hyperlink, so feel free to follow along as we go.
Son and I did a little bit of trading places this week as I led the 'Perts league in homers and was able to sneak away with the lead. Son led the league in Runs, Steals, and co-led in Saves though, so he's not going anywhere…much to my chagrin. It was Cram It who had the biggest week though as they busted out for a 20.5 point gain and a three spot jump in the standings, up to seventh. Crammy led the league in RBIs and co-led in Saves with Son. Finally getting around to that JKJ comment from the lede…JKJ took the biggest hit this week, losing 20 points and tumbling to tenth, a two spot drop. JKJ found a way to guarantee offense with these dead balls, just add the starter to his squad as they all imploded for a 6.16 ERA and 1.63 WHIP. The one saving grace for JKJ is that he only had 30 IP, so this can be recovered.
RAZZSLAM STANDINGS UPDATE
Each week we'll also take a look at the top ten overall standings in our other Razzball sponsored league, the RazzSlam. This is our NFBC Best Ball league with managers from all across the industry, from content providers to fans and readers just like you.
Clark Olson jumps into the top ten this week and all the way into first place thanks to a RazzSlam leading 767 point week. Ted Will…I mean, Taylor Ward helped push Olson to unseating Dalton Del Don for the top spot. It feels to me like it's so hard to make up ground in the RazzSlam, so it was nice to see Razzball's own, JayWrong make a big swing this week, the biggest in the overall standings in fact. Jay moved up 115 spots on the back of a 662 point week. Nice work Jay!
TOP 10
For those too lazy to check the MASTER STANDINGSI present to you, the current top 10
I held onto the top spot for another week and El_Marco joined me on the podium, moving up from ninth to second. Coolwhip's Writers League team rounds out our podium with a jump up from 16th last week.
DonkeyCorns holds onto fourth and Manny's Brain Trust moves up two places this week to fifth.
Mr. Sweat Necklace cracks into the top ten this week, up from 36th last week while stechsjj remains in the top ten, moving from tenth to seventh.
Despite being behind me in the league standings, Son is ahead where it matters, sitting in eighth vs my tenth in the Master Standings. DFA's is the meat in the Son/Matt sandwich, hanging out in ninth place.
TRADE
All the trades that have gone down in the past week. Public ridic is not only allowed, but encouraged.
Two trades this week and if Helsley is the guy in STL, Pena could be a sweet deal.
In a classic case of the top spot never resting, I made a deal this week to hopefully address the biggest need on my DFSers team, steals. Ketel Marte is gonna need to pick it up though or this trade is going to look pretty awful. Just run, Ketel, just run.
WEEKLY LEADERS
The best of the best from the week that was.
R – 61 – Paneotto (RCL 2022 (#41))
HR –21 – Paneotto (RCL 2022 (#41)) & TheBallBusters (RCL 2022 (#43))
RBIs – 64 – Surprising Barbarians 3 (RCL 2022 (#30))
SB – 14 – Elephant Riders (RCL 2022 (#46))
AVG – .325 – Really81 (RCL 2022 (#35))
K – 103 – Capital Offense (DFSers Anonymous)
W – 10 – Say Hey Kids (RCL 2022 (#9))
SV-10- Laura Holt (RCL 2022 (#26)) & Seiyantists (RCL 2022 (#10))
ERA (Min. 40 IP) – 0.83 – sochucksays (Crab Army) (in 75.2 IP)
WHIP (Min. 40 IP) – 0.629 – Dunphy's Joint Venture (Cougs R Us) (in 41.1 IP)
The weekly records will get set and reset many times in the coming weeks. This week we set new high marks in except steals, saves and ERA. sochucksays came within 0.01 of matching the ERA mark and he did it in more IP, so it's slightly more impressive but still doesn't go in the record books.
TEAM OF THE WEEK
Our weekly shout out to the team that killed it the previous week.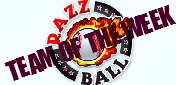 Team: OK Friend
League: RCL 2022 (#19)
Stats: AVG: .225, R: 49, HR: 15, RBI: 52, SB: 5
IP: 87.1, ERA: 1.85, WHIP: 0.87, K: 96, W: 6, SV: 7
Summary: I have tried over the years to fine-tune my TOW formula to make it so it rewards balance. I don't love when a team wins TOW by throwing 160 IP with a 4.30 ERA and 125 strikeouts or just has a huge hitting week but has a 5+ ERA and no steals. All this to say when I first saw OK Friendo pop at the top of my list and saw that .225 batting average, I scratched my head a bit. However, the rest of the hitting stats are pretty great and those pitching numbers are eye-popping! To heck with batting average, who needs it? I have an AL-Only team batting .185 right about now, so who am I to shake a stick at a .225 average? This stat line is basically a snapshot of MLB right now, amazing pitching, plenty of homers, light on speed, and no batting average. Eric Hosmer and Cy Mikolas were the leaders in the clubhouse for the Friendos. This stellar week shot OK Friendo up from 126th last week to 20th overall this week. Nice work!
Want to be Matt's Twitter pal? That's kinda creepy, but you can follow him here: @MattTruss