Five weeks are now in the books. With twenty to go, quick math tells us we are ? of the way through our season. To those ahead in your Razzball Commenter Leagues, that might be exciting, but to those at the bottom of the barrel, that could be unwelcome news. Is it possible you've already accumulated ? of your final stats for the season? I don't, something just doesn't sound right about that. This is the time of year when I like to take a peek at what players are killing your Razzball Commenter League teams and what players are boosting your team up the standings. I went ahead and grabbed every player drafted in the first round of the Razzball Commenter Leagues (yes, even Salvador Perez) and where they currently rank on the Razzball Player Rater. Spoiler Alert: Shohei Ohtani should be our #1 ranked player in the RCLs going forward. Buckle up, Michele Tafoya, there's going to be lots of Ohtani chatter in this article! Let's take a look at which first rounders are tanking your teams, a few trades, and all kinds of numbers for the week that was, week 5:
Jose Ramirez, Shohei Ohtani, Bryce Harper, and Mike Trout have returned first-round value so far. Juan Soto, Rafael Devers, Mookie Betts, Yordan Alvarez, Corbin Burnes, and Max Scherzer (many of who were second-round picks) haven't killed you at all. Trea Turner and Vlad Jr. are a hot week from jumping right into their first-round value, same goes for Kyle Tucker and Luis Robert. So I guess, all in all, the first round hasn't been too terrible. Bo Bichette has been a big letdown so far, Gerrit Cole has been meh and Acuna, Tatis, and deGrom haven't gotten a chance to be studs just yet. (Prayers for Acuna's groin please and thank you). So, as long as you didn't start your draft with Bichette and Walker Buehler, your team isn't in last because of a poor first-round pick. Now, if you started your draft Ohtani/Yordan, you're likely sitting pretty right now. This brings me back around to Ohtani. His values ​​above show his DH value with a plus sign and his pitching value. In FanTrax you lose his hitting stats when he's pitching (this will probably change next season FYI) so his DH value above should be a little lower. It would take a little math to work out what his hitting numbers of been when he's pitching and subtract that value from his DH numbers, but let's say it's…$5 worth of value, which for six games of hitting stats seems a bit much, but let's roll with it. That would mean Ohtani has returned $49.4 in total value, which tops even Bryce Harper's hot start. In daily leagues like this, I don't see how Ohtani isn't the number one target. I took him #1 overall once this year because I wanted him on at least one team and I have zero regrets. Ironically, I had two drafts at the same time that night and didn't expect Ohtani to fall to me at pick number six in the 'Perts League with Coolwhip sitting at pick number one, but he did. Coincidence that those two teams are the teams on top of the RCL standings right now? You decide.
'PERTY' PERTS
Each week we'll peek in at our resident 'perts to see who is laying claim to best "expert" RCLer in the land. We'll take notes, check the standings and generally stalk them. The heading is also hyperlink, so feel free to follow along as we go.
Son and I have traded the number one spot off for the last three weeks, back and forth on the league-leading see-saw. I made the big jump this week, leading the league in Runs and Stolen Bases on my way to an 8.5 point gain. That wasn't the biggest gain of the week though, that honor goes to Steve Paulo and JKJ who both gained 10 points this week. Paulo led the league in HRs, RBIs and AVG while JKJ led in…saves…yup, that checks out from our bullpen guru. Neither team gained any spots in the standings with the effort, however. B_Don gained the most standing spots this week, moving up two places to seventh and passing Gray in the process. Coolwhip took the biggest fall for the second straight week, losing 12 points this time out. That brings Coolwhips losses to 21 points in the past two weeks, but he's still hanging onto the fourth place by his fingernails.
RAZZSLAM STANDINGS UPDATE
Each week we'll also take a look at the top ten overall standings in our other Razzball sponsored league, the RazzSlam. This is our NFBC Best Ball league with managers from all across the industry, from content providers to fans and readers just like you.
It's once again Clark Olson and who is playing for second in the RazzSlam. This week, it's frequent commenter, Old School Brother who lands in second place. OSB had the most points in the league a couple weeks back and is seeing the fruits of that now.
Ray Butler and Chirs Oliver continue their climb up the rankings, finishing this week in third and fourth, respectively. Frank Stampfl debuts in the top ten this week as does Razzball's own, JKJ! Well done, JKJ! Way to represent the home team. Scanning down the rankings, I think I might be the next highest Razzboi in the overall standings way down in the 30s.
Zachary Waxman was the week's big winner with 700 points and a 99 spot move up to a very nice, 69th overall.
TOP 10
For those too lazy to check the MASTER STANDINGSI present to you, the current top 10
Well, would you look at that! A new name sits atop the Master Standings…kinda. My 'Perts league team made a surge and my DFSers team had a hiccup but I'm currently sitting one-two, which has never happened to me, so this is pretty exciting. I really hope I can hang onto one of these. I've come close, but am still yet to win an overall championship, but it's a long season still.
Longballers makes a big jump this week, up from 55th last week to third overall. Whoa. Donkeycorns fall from second to fourth and Coolwhip moves up one spot to fifth.
Bad News Bobs jumps into the top ten this week, up from 25th last week as does Razzball's natemarcum who moved from 19th to seventh.
Son falls four spots this week to eighth while stechsjj jumps up from 18th to ninth.
Rounding us out this week is tberkman who falls from seventh to tenth but continues to have two teams moving around the top 20.
TRADE
All the trades that have gone down in the past week. Public ridic is not only allowed, but encouraged.
Just three deals after last week's trade-a-palooza. I am almost always in favor of trading closers in this format and if one of them is a Rays closer, even better. Nice work Cobblers.
WEEKLY LEADERS
The best of the best from the week that was.
R – 67 – baseballworld (RCL 2022 (#16))
HR –26 – foulballs (RCL 2022 (#46))
RBIs – 70 – foulballs (RCL 2022 (#46))
SB – 14 – Vin Jumps In (RCL 2022 (#6))
AVG – .371 – Cup4Water (RCL 2022 (#13))
K – 94 – Woodpeckers (RCL 2022 (#26))
W-9 – JKJ (PERTS LEAGUE)
SV – 12 – Asynda Cash (RCL 2022 (#44)) & Asynda Boil (Crab Army)
ERA (Min. 40 IP) – 0.96 – Walk the Dog (RCL 2022 (#15)) (in 56.1 IP)
WHIP (Min. 40 IP) – 0.78 – Finkelstein Ballers (RCL 2022 (#22)) (in 55.2 IP)
We set new weekly high marks in Runs, HRs, RBIs, and AVG this week. Imagine hitting .371 for the week…in this economy? That's bonkers and I'm not sure we'll top that mark this season, to be honest.
Fellow RCL enthusiast and former recapper, VinWins led the RCLs in steals this week, nice work Vin!
JKJ led the world in wins this week. Mind sharing some win-lucky my friend?
Asynda had two different teams tie for the lead in saves, which is interesting so I had to go check it out to see if they had the same closers. Joe Barlow, Edwin Diaz, and Mark Melancon occupy both teams, but the other three closers on each squad are totally different. Just an interesting coincidence.
TEAM OF THE WEEK
Our weekly shout out to the team that killed it the previous week.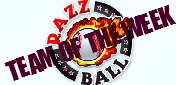 Team: Cup4Water
League: RCL 2022 (#13)
Stats: AVG: .371, R: 64, HR: 20, RBI: 69, SB: 11
IP: 72, ERA: 3.38, WHIP: 1.042, K: 70, W: 3, SV: 3
Summary: What a week! These are the roto weeks we dream about. Cup4Water led the RCLs in batting average and was right in the mix for the lead in Runs and RBIs. The ratios are great and a nice three and three in wins and saves is icing on the cake. The K/9 is respectable as well. Bryce Harper and Jean Segura each had three dingers and three steals while Rhys Hoskins added in four dongs of his own. It was a good week to stack Phillies apparently. On the pitching side, Nestor Cortes led the way and the pitching numbers could have been even better had Rodon not imploded on Sunday Night Baseball. Or, as the Mets would say, the National TV game where MLB switched in super balls. Nice work Cup4Water! The big week shot them from eighth to second in RCL #13 and it's not too late to make big jumps like this!
Want to be Matt's Twitter pal? That's kinda creepy, but you can follow him here: @MattTruss