Dead balls, juiced balls, prime time balls, cold weather, hot weather, humidors, anti-humidifiers (humidifiers?), with all this wakeiness, what is a fantasy baseballer to do? Well, with any luck you took advantage of those dead balls / cold weather early on and got a nice jump baseline for your pitching ratios before Manfred plays mad scientist and realizes that more than just the Apple TV games need dingers. Along that note, my RCL brother-in-arms, VinWins has compiled some lovely pitching stats for us. This includes the team with the lowest team ERA in the RCLs to date, AllRice of RCL #42, who is rocking a 2.19 ERA. How is that possible you ask? Well, to start, they haven't had one blow-up to date, check out these numbers:
Outside of Corey Kluber, that's some stellar stuff. Just this week AllRice seemed to decide they don't need to win ERA by a full point and they sent Verlander and Sheldon Neuse away for Kluber and Tim Anderson, a move I love for them. Maybe Verlander stays acely all season long, but I'd much rather take my shot with Tim Anderson. Rodon, Ryan, Montgomery, and Gonsolin will be plenty good enough along with quality streaming to keep this head start in ERA in contention. For some comparisons between AllRice, Gray's Perts League team (2.86 ERA), and the number one team in the Master Standings, MattTruss223 of DFSers Anonymous (2.54 ERA) you can check that out HERE. Vin has tons of RCL data goodies on that site and it's always fun to peruse. Thanks, Vin! Now, on to the rest of the week that was, week 6:
'PERTY' PERTS
Each week we'll peek in at our resident 'perts to see who is laying claim to best "expert" RCLer in the land. We'll take notes, check the standings and generally stalk them. The heading is also hyperlink, so feel free to follow along as we go.
For the first time in 4 weeks, Son and I didn't trade spots at the top and the top four remained the same. Coolwhip has some company in fourth though, as Cram It made the biggest gain of the week, grabbing eight points, bringing his total to 35.5 points gained since week two. Crammy has worked himself up from 11th to 4th over that same period and is pushing for more. Cram led the league in HRs (19), RBIs (50), and SBs (8).
Going the other way this week was Malamoney, who lost 6 points and dropped three places from fifth to eighth.
RAZZSLAM STANDINGS UPDATE
Each week we'll also take a look at the top ten overall standings in our other Razzball sponsored league, the RazzSlam. This is our NFBC Best Ball league with managers from all across the industry, from content providers to fans and readers just like you.
Does anyone ever catch Clark Olson? It always feels like it takes so much to make any headway in the RazzSlam. For example, the top ten this week is all the same teams as last week save for one, Brent Franey replaces Eric Samulski. JKJ is still holding things down for TeamRazz and should he falter, Nate Marcum and Zach Nelson are ready to jump up to take his place as they sit in 11th and 14th after some big weeks. Zach actually led all RazzSlam teams this week with a 732 point week. Nate was number two on that list with a 719 point week. Friend of the show, Heath Capps made the biggest jump in the standings this week though, doubling up and gaining 82 spots to move into 82nd overall thanks to a 703 point week.
TOP 10
For those too lazy to check the MASTER STANDINGSI present to you, the current top 10
I held onto the top spot for another week as my DFSers squad regained its form and my 'Perts League team slipped to third. DonkeyCorns jumped in to fill the two hole.
FFB is making a charge up the Master Standings and if history tells me anything, babies in the rearview mirror are closer than they appear. FFB jumps into the top ten, up from 13th last week. Chazz Jisholm also slides into the top ten this week, jumping from 11th to fifth.
Stechsjj moves up three places to sixth this week and Son moves up one spot to seventh, displacing Nate Marcum (remember him?) down a spot to eighth.
Coolwhip and Longballers each take a tumble this week to round out our top ten with Whip falling from fifth to ninth and Longballers tumbling from third to tenth.
TRADE
All the trades that have gone down in the past week. Public ridic is not only allowed, but encouraged.
It was another busy week of trading after a lull last week. Nine swaps were made and I already sang AllRice's praises in the intro. Besides that, there's nothing too notable here. I always loathe trading for closers and with injuries to Chapman and Kittredge, those deals could look bad in a hurry. I would also avoid Emilio Pagan like gas station sushi. Those metrics are not good my friends, not good at all. Or, maybe I'm just a biased Jhoan Duran truther.
WEEKLY LEADERS
The best of the best from the week that was.
R – 65 – razzkai (RCL 2022 (#23)& MediOAKer MattRCL 2022 (#26))
HR –23 – razzkai (RCL 2022 (#23))
RBIs – 64 – Fred Garvin MP (Cougs R Us)
SB – 13 – Stumble Drunks (RCL 2022 (#16))
AVG – .347 – Austin-Knight (RCL 2022 (#15))
K – 85 – oldrock (RCL 2022 (#19)& Scoboticus 2RCL 2022 (#17))
W – 8 – 6 Teams Tied
SV – 12 – Jolt In Flow (Frequent Commenters League)
ERA (Min. 40 IP) – 1.02 – Seiyantists (RCL 2022 (#10)) (in 44.1 IP)
WHIP (Min. 40 IP) – 0.701 – kelion (RCL 2022 (#41)) (in 51.1 IP)
A new weekly record was set in Saves for this season with 12 by Jolt In Flow.
TEAM OF THE WEEK
Our weekly shout out to the team that killed it the previous week.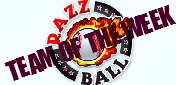 Team: razzkai
League: RCL 2022 (#23)
Stats: AVG: .276, R: 65, HR: 23, RBI: 56, SB: 4
IP: 52.1, ERA: 2.41, WHIP: 1.108, K: 62, W: 5, SV: 4
Summary: Leading the RCLs in Runs and HRs is a good way to set yourself up for TOW honors. Razzkai managed that along with some mint ratios, a little SAGNOF love, and a very nice K/9. Anyone want to take a guess what player paced the offense for razzkai this week? It rhymes with Clever Glory. 10 Runs, 6 Dingers, 14 RBIs and 2 steals. Way to get all your stats in one week, Trevor. The pitching side was a total team effort with seven different starters getting a start with only Charlie Morton really laying an egg, and he even still got a win because baseball stats make no sense and wins are a social construct and quality starts aren't any better and why haven't we come up with something better…Anyway, nice week razzkai! The great week shot razzkai up from 75th to 39th in the overall and from fifth to third in RCL #23.
Want to be Matt's Twitter pal? That's kinda creepy, but you can follow him here: @MattTruss